---
Proud Member &nbsp&nbsp&nbsp&nbsp&nbsp&nbsp&nbsp&nbsp&nbsp&nbsp&nbsp To Join I.G.G.W. Click Here!! &nbsp&nbsp&nbsp&nbsp&nbsp&nbsp&nbsp&nbsp&nbsp&nbsp Proud Member
---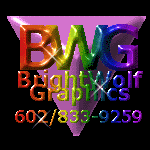 PROUD MEMBER


We here at BrightWolf Graphics specialize in website design and maintance. It is our goal to give you a web presence that you will be proud to send people to. Is your need a personal page with a bit of flair or a rather conservative page for the business world, we can assist. We are proud to offer our services to the Gay, Lesbian & Pagan community, and prouder even still to be a part of the community.
Do you need a Banner for you site or organization? Static, Animated and Flash Banners created.. Do you need website built standard or Flash? Tired of paying high prices, give me a chance to quote your job email BWG
You are vistor #

.



This page is just being created... Please check back soon for
design ideas & hints, BWG Services, and graphics area.
Have questions please Email BrightWolf Graphics
Copyright Stuff
All Contents and Graphics © 1998 BrightWolf Graphics
BrightWolf Graphics © 1996, 1997, 1998 Charles F. McAvoy
All rights reserved.


This Pagan Graphic WebRing site is owned by BrightWolf.

Want to join the Pagan Graphic WebRing?

[Skip Prev] [Prev] [Next] [Skip Next] [Random] [Next 5] [List Sites]